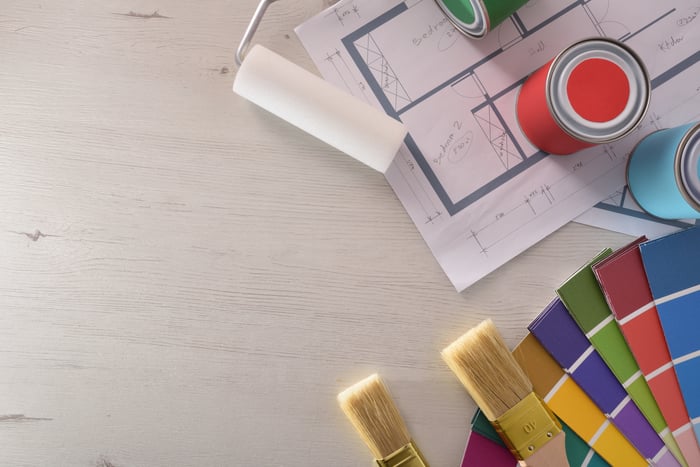 Right now, many people are feeling the pressure of being stuck at home. You probably feel bored, isolated or unsure of what you're going to do next. However, this time at home can be used productively! This is a great time to tackle some of those spring cleaning tasks, get ahead on some of the projects you've set aside for yourself. Use this time to feel great about your organized home. This is a great opportunity to spruce up your space and support local online businesses at the same time. Before heading out of your house to pick up supplies, look around for what you already have and search online for chances to have your supplies delivered straight to your door so that you can continue to support your favorite businesses. You can be productive while keeping yourself and others around you safe by doing your part and staying at home.
1. Organize Your Pantry and Kitchen
We're sure you have found yourself, in recent days, scurrying out to stock up on pantry essentials. Now, you've got time to organize them--both the items that were already in your pantry and the ones that are helping you get through this period of social distancing. Try some of these ideas:
Use bins and clear containers to declutter, organize, and label your pantry contents. You'll be able to easily look in and see at a glance what you have and what you don't--and that can help you prevent overspending and allow you to see exactly what you have on hand to cook with between grocery store visits.
Go through and get rid of Tupperware with missing pieces. Do you have lids that don't go to any container in your pantry? Containers that no longer have their lids and therefore never get used? Now is the perfect time to toss them out and make more room in your pantry for essentials.
2. Install a Wallpaper Accent Wall
A wallpaper accent wall is a great way to add some character to your home. Order your wallpaper of choice from a retailer to keep in line with the social distancing protocol. If possible, support a local small business that's still offering service to customers through home delivery. There are many options available, including peel-and-stick wallpaper that's easy to remove. Spend a day taking on this project with a partner and enjoy the results well beyond this period of isolation.
3. Install Stick-On Backsplash
Peel-and-stick backsplash is a huge trend right now. It's affordable, less messy, and requires less work than traditional tiles. Take a look online to see what deals online retailers are offering during this time. Even better, you won't have to tear out the old tile in order to use it. Choose a pattern that appeals to you and adds a pop of color to your kitchen or bathroom.
4. Organize Your Closet
This quarantine is the perfect time to take everything out of your closet and get it neatly organized for future use. Color code it, organize your closet by style or category or tuck away clothes for winter while moving your spring and summer wear to the front of the closet. Storage bins and cubicles are a great way to add organization to your closet.
5. Rearrange and Organize Your Garage or Storage Space
This is a project that gets pushed off all too often--but now is the perfect time to tackle it. Take the time to make piles for donation and trash. Get rid of all those items that are just cluttering up your space. Then, organize the items that remain so that you know where everything is and you can get to it easily.
6. Work in Your Yard or Garden
Even while quarantined, it's important to get out and get some fresh air. Working in your yard or garden is a great way to get out of the house while still keeping yourself and the members of your family safe. Cut the grass, pull weeds, trim back bushes, and plant new plants or seeds. If possible, support a local garden center or other small business as you work to turn your yard into an oasis for your family. Many local garden centers are offering delivery so that you're able to get fresh air, revamp your yard, while also remaining in quarantine.
7. Create a Gallery Wall with Your Existing Artwork
Are you looking for an easy way to refresh your space with things you already have in your home? You don't have to get out when you use the artwork you already have! Move art, prints, and photos around to other rooms. Set up a gallery wall filled with your favorite prints. You'll be surprised by how much a few simple changes can alter the whole look of your space--and make you feel incredibly productive during your period of isolation.
8. Go Through Closets and Drawers and Prepare Donation Piles
Chances are you, like most people, have possessions that you've been meaning to get rid of, but haven't ever quite gotten around to. While organizing, pull out things that you don't use or wear anymore. If you haven't used it in six months to a year, chances are, you aren't going to. Decide what you want to keep, donate, and sell, and start a donation pile to take in when the current crisis has subsided.
9. Install Stick-On Countertops
Stick-on countertops are another great project that is more affordable and takes less work to complete. Consider looking on Pinterest or other sites to get a few ideas, and then look at your local retailer's website to see what they have in stock for delivery. Spend a few hours working with a partner to completely transform the look of your kitchen or bathroom, refreshing your space and making it look like new.
10. Repaint a Room
Do you have paint lying around from the last time you painted your house and want to put on a fresh coat? Have you been considering changing the whole color scheme of a room or adding in an accent wall? The quarantine is the perfect time to take on that project.
11. Organize Your Bookshelves
Take a look at your bookshelves. Have they gotten stacked up, piled up, and out of order? Set aside old books you no longer want for donation, then organize the ones you're keeping by color or genre. You might just discover a few old favorites to curl up with again--or find books you'd forgotten you had that you're ready to read as you wait for the end of quarantine.
While it's rough being stuck at home, you don't have to sit around. Better Homes from KCTV5 has lots of great ideas for bettering your home. From DIY projects to landscaping and cleaning tips from a pro, Better Homes is highlighting some of Kansas City's industry leaders and their expertise. It's also still possible to support local retailers during this time with local delivery. You can still do your part by staying home and supporting them with delivery while we're all in quarantine. Take advantage of the time you have on your hands to catch up on projects, get ahead on your spring cleaning, and refresh your home so that it looks its best when you're ready to entertain again.