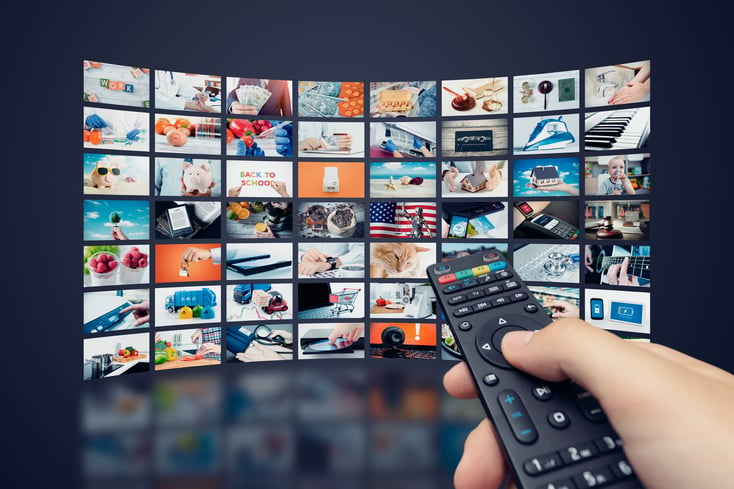 Have you ever been watching a streaming service and wondered how many people are watching the same thing as you? The reach of OTT platforms is wide and vast, and a great marketing tool.
OTT stands for "over-the-top," and generally refers to film and television content provided over the Internet, instead of through a more traditional channel like broadcast or cable TV. Streaming companies like Roku, Hulu, Amazon, and Disney+ are examples of OTT service providers.
This type of content is becoming more and more popular. For example, one study from Roku projects that by the year 2025, some 60 million American households will watch content on their TV exclusively through streaming services. Whether or not that prediction becomes reality, OTT services have enjoyed a popularity boom in recent years — especially since the outbreak of COVID-19. Not surprisingly, many advertisers have invested in OTT platforms in order to expand their reach and maximize their ROAS (return on ad spend).
OTT and Its Reach
OTT has a widespread reach among several demographics. On the one hand, many young people consume the content on a regular basis. According to one study, OTT usage is at 65% among viewers between the ages of 18 and 34. On the other hand, an increasing number of older consumers are using OTT services as well, for a variety of reasons that range from convenience to safety. Research indicates that 27% of users aged 45+ stream an OTT service on a daily basis.

How many people can an advertiser reach via OTT? According to one expert, more than 50% of the consumer base is present on OTT platforms; and in the United States alone, approximately 170 million people used an OTT service in 2017. While the exact number of people you can reach may change depending on the platform you leverage or the programs you target, the fact remains that OTT advertising can open doors that are closed to other marketing channels.
Moreover, OTT advertising is in many ways more flexible than traditional marketing tactics. For example, these ads are not restricted in terms of time or location as broadcast TV commercials are. OTT content can be consumed anywhere (via mobile devices) and anytime (since OTT is based around a "video on demand" model). This means that OTT advertising can reach a large pool of people unavailable to broadcast and cable TV. Since these ads don't run in specific time slots like TV ads, advertisers are also in a better position to engage with consumers that work non-traditional schedules (2nd shift and night workers, weekend workers, and so forth).
Benefits of OTT Advertising
There are several significant benefits that businesses can gain from advertising on OTT channels. What's more, since only 5% of all ad dollars go to OTT, there's presently a huge opportunity for forward-looking companies to jump into the medium and establish their presence.
Some benefits of OTT advertising include:
An expanded reach. Companies can engage with consumers that are "cord cutters" or "cord nevers," as well as individuals that only watch traditional TV on a sporadic basis.
Better odds of getting in front of the right people at the right time. OTT users are typically more engaged than television viewers in terms of advertisements, especially since companies often have the opportunity to publish both "pre-roll" and "in-session" ads.
A high ROI. OTT advertising can generate a higher ROI compared to other mediums, largely thanks to its advanced targeting capabilities (placing ads according to consumer behaviors, demographics, etc., versus paying for TV commercials that may have wider reach but are less targeted).
Cost-effectiveness. Compared to many other advertising channels, OTT provides the biggest "bang for your buck."
Advanced CTA capabilities. Several OTT platforms allow companies to place clickable CTAs within their ads. For instance, a prospect clicks on the ad and is redirected to the appropriate landing page. With such capabilities, you'll be able to easily track the ad's performance in real-time, and make adjustments in your next iteration as needed.
Partner With a Media Partner to Unleash the Power of OTT
In summary, OTT advertising can be a highly effective and impactful way to market your product to the consumer base. It is cost-effective, boasts a high ROI, offers an expanded reach, and is extremely versatile. When used correctly, OTT advertising can be truly powerful.
Of course, working with this platform may not be one of your business' core competencies. Many companies have found that partnering with an experienced media partner is the best and fastest way to unleash the power of OTT advertising. Such a partner can work with you to create the right content for your preferred platforms, and advise you on where and when to deliver your ads. When you take advantage of the partner's expertise and experience, you'll be able to optimize the ROI from your OTT advertising efforts to the fullest extent.
In any event, you should consider implementing OTT strategies as part of your business plan; and if you already have, then you should look for ways to maximize their impact. If you do, you'll no doubt enjoy sustainable growth for years to come.