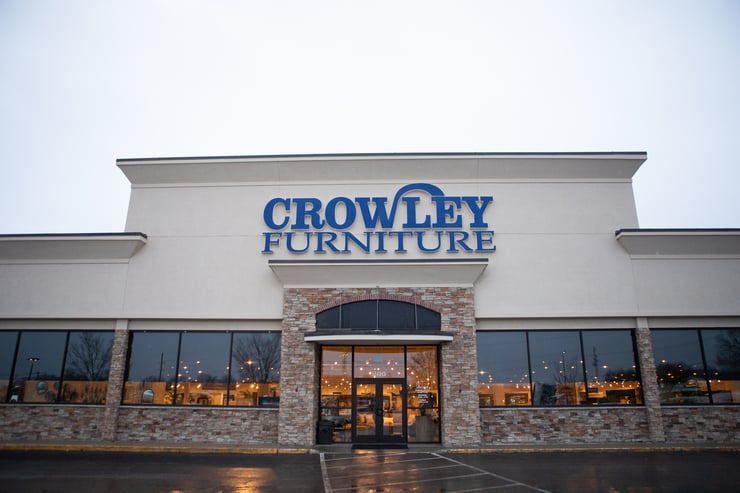 Crowley Mattress and Furniture wanted to stand out as more than just an average, everyday mattress and furniture company. In addition to high-quality furniture, they wanted to provide their customers with an amazing experience, including decorating advice that would help them arrange the ideal rooms and designs in their homes.
In order to create that experience for their clients, however, Crowley Furniture and Mattress had to reach them. They needed to expand their reach and raise brand awareness. With plenty of mattress and furniture stores spread throughout the Kansas City area, Crowley Mattress and Furniture needed something that would help them stand out from the crowd.
Enter the KCTV5 Marketing team.
Building Commercials, Building Business
With the Crowley Furniture and Mattress team, KCTV5 worked to create a series of commercials that would highlight the company's latest promotions. Owner Greg Crowley and his daughter Laura became the face of those commercials as they showed off all the great elements the company could provide. In each 30-second or 15-second spot, the company chose to showcase different products and unique promotions. This allowed people to get a look at exactly what they could expect when they entered the store, but they got a chance to see more from Laura and Greg directly. As a result, they were also able to get a glimpse of the high-quality customer service they could expect from the brand.
These ever-changing commercials also gave consumers a look at the different promotions offered each week. Consumers got a look at the latest products and offerings from Crowley Furniture and Mattress, as well as what was on sale each week. Thanks to those commercials, potential customers could picture these offerings in their homes and determine whether they fit their needs.
A Look at Marketing ROI: What Can Commercials Accomplish?
Their commercials ran five days a week during local news segments on KCTV. They reached a wide range of potential consumers from multiple demographics since many people tune in to catch the news each day for a variety of reasons. Those consumers were eager to see what Crowley Furniture and Mattress could offer for them.
For Crowley Furniture and Mattress, that meant exceptional growth and increasing opportunities within their industry. Within a short time, they expanded from a single location to three. This elevated their business as a whole and allowed them to expand their reach even further.
It didn't stop there, either. In fact, since they have been working with the KCTV5 team, Crowley Furniture and Mattress has continued to see growth each year. Their commercials remain a popular incentive for new customers to come visit their stores. Thanks to that virtual walk through the store, consumers are more likely to want to visit in person--and once they arrive, the high-quality furniture and amazing customer service keep them there.