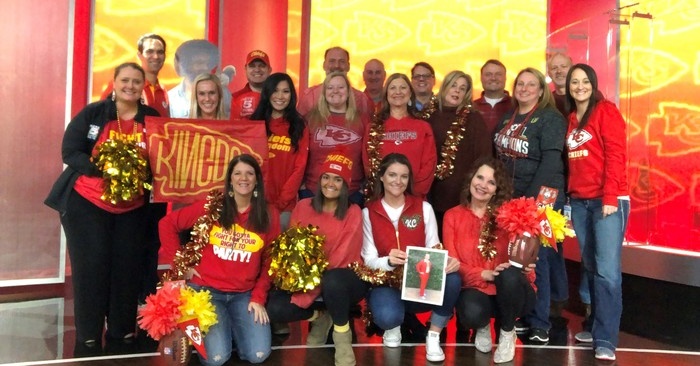 When you're looking for a trusted media partner to be alongside your business and help you reach your marketing goals, you want a full-service partner where you can get the input, feedback, and reach you need.
KCTV5 Marketing City delivers
At KCTV5 Marketing, we have an innovative team that is constantly looking at advertising from a new direction, looking for new ways to help our partners succeed. When you think of KCTV5 Marketing, you might think of KCTV5 and KSMO, but we are so much more than our local stations. KCTV5 Marketing is a full-service media partner including KCTV5 and KSMO: the stations we can use to help promote your business by putting your commercials and content in front of a wide customer base on local channels. Our TV ads allow you to have your content directly in front of local consumers, helping you help draw the traffic you need directly to your business.
Finding the right marketing solution for your company can prove confusing, especially if you're trying to spread your marketing across several teams or businesses. At KCTV5 Marketing, we provide a one-stop shop that includes all the marketing tools your business needs. Here are a few ways that KCTV5 Marketing can help your business succeed.
OTT
Today, an increasing number of households are choosing to add streaming services to their homes. At KCTV5 Marketing, we help our partners create commercials and content designed specifically for OTT, from repurposing existing television commercials to creating new content to interact with viewers and interest them in our clients' services.
Lifestyle Marketing
Many business owners want to showcase their brand in a highly specific way, bringing it into customers' lifestyles and showing that your brand is a great fit in terms of class, style, and flare. At KCTV5 Marketing, we work to create lifestyle marketing opportunities with a variety of familiar lifestyle brands, including People, Southern Living, Better Homes and Gardens, and All Recipes, to showcase stunning print ads. We also utilize Better Kansas City Lifestyle segments during KCTV5 News at 9 am. This helps our partners show off more about themselves and what they have to offer the Kansas City market.
Digital Advertising
Your digital advertising efforts help spread the word about your business and allow interested customers to learn more about you. From helping you create highly specific targets for your ads to creating display ads that will showcase your brand on our website and Facebook page, we can use our skills to help our partners cut through the digital noise and get their brands in front of their target audience.
Social Media
Social media is important, as an increasing number of customers have come to expect interactions with the brands that they trust. At KCTV5 Marketing, not only do we help you create a plan for marketing your business through your own social media pages, but we work with you to design high-quality branded content that we'll display on our social media pages. Our implied endorsement of your brand will also help set your business apart. When our viewers know that we trust you, they're more likely to have the same reaction.
Email Marketing
Many of your existing fans rely on your emails to get a better idea of what's going on with your business. We can help you design emails to provide the information your fans need and spread the word about any promotions or changes within your business. We'll also provide you with access to our email lists, enabling you to reach a wider range of potential customers.
Planning, Research, and Analysis
One of the key elements of your marketing plan is strategic industry research. At KCTV5 Marketing, we offer the benefit of considerable experience. We're familiar with the local market and what customers are likely to want and need from ads in order to bring them into your business. We will work with you to analyze the results of your current marketing campaigns, and make additions and alterations so that you can see better results in the future.
Production
In addition to helping design your marketing plan, we'll work with you to help produce the stunning commercial and video content you need to help you reach your customers. By using a one-stop media company, you can ensure that the production process will follow the lines already laid out by your marketing strategy. Smoother communication and a full picture of the goals you have for your business will help ensure that your commercials and other video content are created according to your intent.
It can be confusing to decide what's best for your business when you create your marketing plan. You may need to choose between multiple strategies or carefully analyze your existing marketing efforts to give you a better idea of what is most effective for your business based on your specific target audience and the response of your customer base. At KCTV5 Marketing, we provide all the tools you need, from creating an efficient marketing strategy to producing content and analyzing your results, all in one convenient, trustworthy location.