While the pandemic hit many businesses hard, others have flourished, regardless of being essential or not. Advertising strategy is the one thing that the most successful, long-enduring companies do differently. Savvy marketers know that advertising campaigns need to be updated and pivoted as quickly as these ever-changing times.
While most industries are starting to bounce back, the uncertainties of the pandemic may last a few more years. As we deal with the pandemic's effect day by day, it's vital to remain on top of our advertising game.
It's also important to remember, pandemic or not, revamping your advertising plans is useful any time you feel like business growth has become stagnant. If your team hasn't reached its goals in 2021, improving your marketing strategy can help.
Provide Value Across Multiple Channels
A holistic, omnichannel approach to marketing can really get things going. Of the advertising channels you currently use, find out which ones seem to attract and delight most of your audience. Put more resources into mediums that are getting more traffic and engagement. Remember to regularly re-evaluate marketing channels before each new campaign.
Sometimes, we tend to stick with what we know without analyzing if there is a better way. You might be tempted to dedicate efforts to tactics that have always been used, but if those channels aren't performing up to par, it's time to retool your strategy. Right now, it's more important than ever to use the most profitable channels and stay top of mind with your audience.
The pandemic proved that audiences and the way they receive information can change drastically in a short amount of time. To stay up-to-date with your customers' needs, use a multi-touch approach. Start tracking all potential leads from the first engagement through the sales conversion. Following your leads throughout the entire buyer's journey ensures customer satisfaction and continued brand loyalty.
Gain Prospects' Trust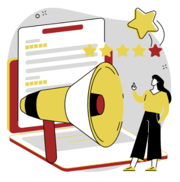 Showcasing your product or service is important, but you need to gain the trust of your customers to convert sales. Encourage satisfied customers to provide proof of their great experiences with reviews on social media platforms. You can also put these reviews on your website to entice interested visitors.
A strong reputation online is crucial to growing your business. Oberlo tells us that 81% of customers do online research before making a purchase. Even if your products are high-quality, consumers won't feel comfortable spending their money without positive testimonials. Often, customers take online reviews as seriously as advice from friends or family.
With so much competition, it can be challenging for your brand to gain recognition. Oberlo also states that 48% of consumers will go directly to a large marketplace to buy their products. Show your customers how special your brand is with unique messaging and a superior buyer experience.
Reach the Right People with Content Marketing
If you don't currently use content marketing, now is the perfect time to start. Content marketing has been proven to increase brand trust and keep your customers around for years. It can also help generate new leads and improve your conversions.
Original content is a cost-effective way to drive traffic, whether it's through unique images or blog posts. It positions your brand as a knowledgeable and trustworthy leader in your industry. Showcasing this expertise provides value for your customers. While every audience wants affordable products, they also want to feel confident that they're getting their money's worth. They're more likely to buy from brands led by experts, especially in the healthcare or fitness industry.
If you already use content marketing and aren't seeing meaningful results, ask yourself how it can be improved. Sometimes the content itself is fine, but your website's layout or graphic design is difficult to read. Remember that many customers browse the web with their phones, so your site needs to be fast and mobile-friendly.
Is your content enhanced with keywords to bring new traffic to your website? Be sure to use SEO tactics or revamp your strategy. Many people go to Google first to find the best products for their needs. Sprinkle your content with relevant keywords to get more hits from organic web searches.
If all else fails, find an expert that knows how to improve your campaign strategy. Media partners can give your content a second look and tell you what's missing.
Create Partnerships to Strengthen Your Brand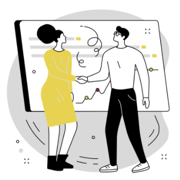 Another way to refresh your advertising strategy is to partner with another brand. Avoid competitors, but choose a business that complements yours, ideally catering to the same type of audience.
Co-branding partnerships can be powerful. While one brand is influential, two brands together can be unstoppable. You've probably seen co-branding in action with businesses you're familiar with. One example is BMW and Louis Vuitton. These luxury brands know that they have similar audiences, although they don't have to compete with each other. Another great marketing pair is Uber and Spotify. Their partnership mixes well because many consumers enjoy listening to music during a drive.
Revamping Your Advertising with a Media Partner
Remember to constantly update and improve your marketing strategies to attract new customers in today's climate, and always. Utilizing multiple channels, making meaningful partnerships, and producing original content are excellent strategies to stay on top of your game. Working with an experienced media partner can help you enhance your campaign's success even more.